Unkel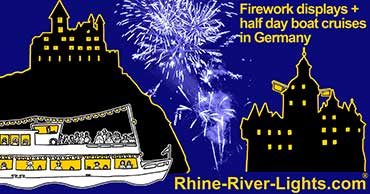 Romantic Rhine river town near the seven mountains, which has retained it's charm of the medieval view of the place with pictorial alleys and half-timbered houses.
It's position with the car free Rhine river promenade and a muliplicity of sights, makes the town to a coveted attraction for tourists and gives a good atmosphere with the vine roofed vintage dresser houses and inns.
Well constructed ways invite to walks in Unkel's attractive surrounding.
The round hiking trail "Rotbackchen-Rundwanderweg" is new.
The near laid city Bonn and the Ahr river valley are easy to reach with the ship and bus.
Firework schedule dates | Boat tickets
For Prospects, hand-written information per letter | telephonic round cruise boat tickets order | hotel, pension, vacation apartment | delivery condition and pay condition for round cruise boat tickets | advance payment rest payment | cancellation | further conditions please look at the following web page: https://sicher.hotelliste.biz/firework/information/index.html
.