Rhine in Flame between Linz and Bonn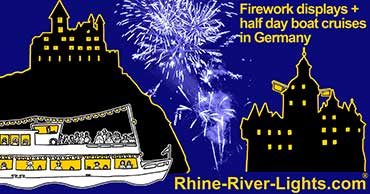 Medieval "Colorful Town" on the opposite side of the Ahr river mouth. Well worth seeing are the castle from the year 1365 with

Kinoptikum, weapon and torture chamber, knight hall with medieval gastronomy, museum. "Roman glass cottage" ( Romische Glashutte ) with all yearly Christmas exhibition.

Late roman Martinuskirche (Martinus church) from the year 1206, late gothic city hall from the year 1517 with chime, which plays daily at 12:15 p.m., 3:15 p.m. and 6:15 p.m.

Old town with city wall, city gates and half-timbered houses from 4 centuries.

Program Rhine in flames / Rhein in Flammen

at 4:00 p.m. Rhine river promenade festival in the urban park and garden arrangement.

Musical entertainment with well known bands.

Placement of the boat parade.

Huge opening firework and firing of 300 Bengal pouches.

Firework schedule dates | Boat tickets

For Prospects, hand-written information per letter | telephonic round cruise boat tickets order | hotel, pension, vacation apartment | delivery condition and pay condition for round cruise boat tickets | advance payment rest payment | cancellation | further conditions please look at the following web page: https://sicher.hotelliste.biz/firework/information/index.html
.