The historical town picture of Bacharach builds the scenery for the big firework. The beginnings of Bacharach lead back to the celtic latin settlement called "Baccaracum". The legend says that in good wine years, a sacrifice was to be brought to the Bacchus on the "Bacchi ara", an altar-shaped rock in the Rhine river. The rock doesn't exist anymore, but the town name still reminds of the latin wine god.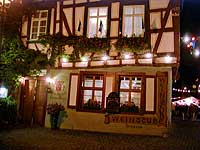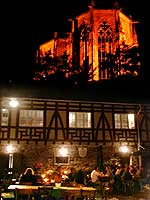 Starting at 11:00 a.m. on Sunday the "Wine Festival Summer Night" (Weinfest-Sommernacht) with its musical morning pint of the Jazz group "Full House" will continue. Starting at 2:00 p.m. a children's program will take care of entertainment for the small visitors. In the afternoon, the chainsaw artist will perform his acts again. With the evening pint, the wine festival summer night will finally end. On both days, the guests will not be accompanied by a wine queen, but instead from the wine god Bacchus personally and his "Bacchantinnen".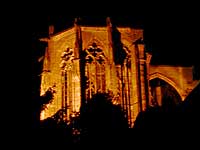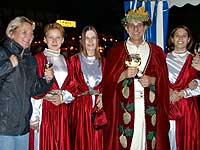 You'll reach Bacharach with the car, from Koblenz / Coblence or Bingen, by driving along the Rhine river on the highway B 9, alternatively over the freeway A 61 (Koln / Cologne - Ludwigshafen), freeway exit Rheinbollen / Bacharach. Bacharach also has good train connections. During the day, a train drives from Bacharach in direction Koblenz / Coblence alternatively Mainz every hour.
The following gastronomy businesses and winerys participate in the event "Wine Festival Summer Night" (Weinfest-Sommernacht):
Rheinhotel Bacharach (Bacharach)
Hotel restaurant "castle Burg Reichenstein" (Trechtingshausen)
Hotel restaurant "Bergschlosschen" (Oberheimbach)
winery Dr. Kauer (Bacharach)
winery Karl Heidrich (Bacharach)
winery "Hahnenhof" Toni Jost (Bacharach)
winery Ratzenberger
winery Heiko Klein (Oberheimbach)
winery Bruck (Bacharach-Steeg)
winery Kemmer (Bacharach-Steeg)
winery Lithos (Oberwesel-Weilerboppard)
winery Graf von Kanitz (Lorch)
You will find updated information about boat round trips at
www.rhine-river-lights.com
Firework schedule dates | Boat tickets
For Prospects, hand-written information per letter | telephonic round cruise boat tickets order | hotel, pension, vacation apartment | delivery condition and pay condition for round cruise boat tickets | advance payment rest payment | cancellation | further conditions please look at the following web page: https://sicher.hotelliste.biz/firework/information/index.html
.