Remagen
The almost 2000 year old Roman town on the romantic middle Rhine river presents itself from the Ahr river mouth to the legendary Rolandsbogen by Remagen-Rolandswerth as vacation and excursion destination with numerous sights.
Freedom museum "Bridge of Remagen" (Friedensmuseum "Brücke von Remagen"),
pilgrimage church (Wallfahrtskirche) St. Apollinaris,
monastery island Nonnenwerth,
Latin (Romisches) museum,
marina (Yachthafen) Oberwinter,
artist train station (Künstlerbahnhof) and wild wildlife park (Wildpark) in Rolandseck.
Program Rhine in flames / Rhein in Flammen
Promenade festival with international artist program and guest performance from top music groups as well as nostalgic merry-go-rounds on the Rhine river promenade.
Firework display below the new gothic pilgrimage church St. Apollinaris on the Rhine river shore in Remagen.
Further activities in the evening in the districts Kripp, Oberwinter, Rolandseck, Rolandswerth and at the Unkelstein rock.
Linz - Erpel - Remagen - Unkel - Rheinbreitbach - Bad Honnef - Königswinter - Bonn
Firework schedule dates | Boat tickets
For Prospects, hand-written information per letter | telephonic round cruise boat tickets order | hotel, pension, vacation apartment | delivery condition and pay condition for round cruise boat tickets | advance payment rest payment | cancellation | further conditions please look at the following web page: https://sicher.hotelliste.biz/firework/information/index.html
Round boat trip with Walpurgis Night festival and Dance into the May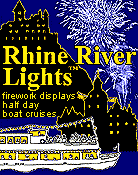 2 firework displays round boat trip Rhine River Lights™ with visit of wine festivals and winery festivals
Rhine in Flame near Bingen and Rudesheim
Rhine in Flames in Koblenz, Coblence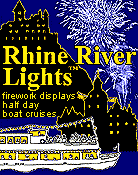 Firework display round boat trip Rhine River Lights™ with visit of wine festivals and winery festivals
Firework in Winningen on the Mosel river
Rhine in Flame in Oberwesel on Rhine river
Rhine in Flame in St. Goar and St. Goarshausen
Fireworks near Boppard on the Rhine river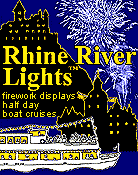 Firework display round boat trip Rhine River Lights™ Golden wine autumn and Swimming Federweisser vintage festival